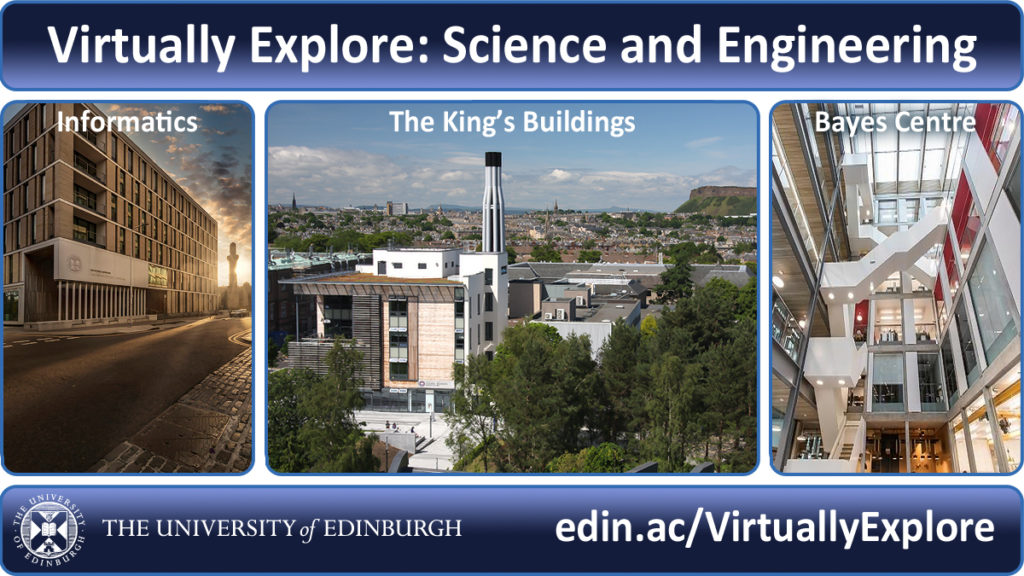 Virtually Explore is a collection of online experiences developed by staff and students at The University of Edinburgh. Take a glimpse into research spaces, what staff and students do, and the history of the buildings. You can also access a number of interactive or stay-at-home activities for all ages.
Go behind-the-scenes at The King's Buildings campus to see unique laboratories, as well as a variety of videos, blogs and information points that highlight the work of staff and students. Scattered throughout the virtual experiences are a number of interactive activities, including catching sea creatures (Grant Institute), maths puzzles (JCMB), and exploring how light affects plants (Waddington Building). After your King's Buildings visit, you can tell us what you think through an online survey, our public comment board or by tweeting us @ScienceUoE!
You can also explore more through videos of the Informatics buildings and personal stories that illustrate the diverse routes to computer science that many of people have taken. Finally, the Bayes Centre – home of Data Science and Artificial Intelligence – presents videos and activities that allow you to discover the influence of Data Science in our modern world!
---
---